PPE in Health and Social Care has been a popular topic in headlines recently, and with news of a vaccine showing light at the end of the tunnel, it is important to remember that there is still work to be done in suppressing the pandemic. Organisations must keep in mind that workplace safety remains a priority for any organisation, whether it is an office, school, hospital, or a care home.
For the short-term, organisations must still adhere to guidelines on social distancing, wearing protective coveralls, and masks to ensure workplace safety. We must all keep vigilant during this time.
From the beginning, the Government has outlined steps which we can all take, from social distancing through to national lockdowns. Since the COVID-19 pandemic has raged throughout most of 2020, fatigue has understandably been a factor, but with the end now in sight, now is the time to dig deep.
The virus itself is transmitted through person-to-person contact, whether that transmission is airborne through close proximity to another human or through contaminated surfaces that an infected person may have touched. There are also varying degrees of likelihood depending on the setting that transmission is far more likely indoors.
Due to the nature of how this virus behaves, PPE in Health and Social Care has been a widely covered issue over the last 12 months. Protective coveralls, gowns, face masks, visors, and gloves are all effective methods of providing that all-important barrier between individuals, and thus limits the opportunity for the virus to spread.
The controversy around the Government's actions around PPE has stemmed from an initial shortage during the first wave, to the over-buying of questionable goods from overseas, rather than investing in UK Manufacturers.
These developments have highlighted the need for a reliable UK Manufacturer of high quality, British-made gowns, into which Hospital Direct will step into the breach.
Products available from Hospital Direct include:
Standard gown
Co-Visors
CiFi Torch – For identification of biological matter, supporting Infection Prevention, and Control Teams.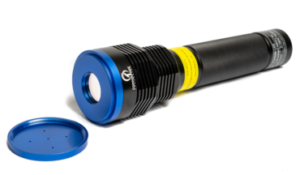 Hospital Direct (Marketing) Ltd, based in Shropshire, has been manufacturing and supplying the NHS and associated healthcare establishments with UK-made patient handling aids for over 25 years and was recently chosen as the supplier of specialty equipment for the nationwide Nightingale Hospitals.
If you would like to know more about whether Hospital Direct can deliver on your PPE needs, please contact
sales@hdigroup.co.uk